If you're considering investing in a shiny new air fryer, you know that the choices and options are almost endless. And that can make it tough to figure out which one might be right for your family. Although there are many factors to consider, we think one of the most important is size. Figuring out how big of an air fryer you really need will help narrow your choices considerably.
Related Content: Want A Great Affordable Air Fryer This Year?
Continue reading to find your own answer to the question "What size air fryer do I need?" And learn the additional factors you should consider after that, if you want an air fryer to be the latest healthy addition to your lifestyle.
Air Fryer Basics
By now you probably know that an air fryer is a healthy appliance to have in your kitchen. For those of us looking for healthy foods without being deprived of the delicacy of fried goodness, an air fryer might be the best option.
An air fryer works the same way a deep fryer works (sort of), but it doesn't use oil to fry; instead, it uses hot air. It circulates hot air in the convection method to provide a crispy brown layer around the cooking items. A heater above the cooking chamber radiates heat to the foods at a close range. The same radiation that heats the top layer of food penetrates even deeper, reaching the foods' bottom layer. A fan located above the heater pulls up hot air from the chamber to create a strong airflow.
What Size Air Fryer Do I Need?
The answer to your question, "what size air fryer do I need" really depends on how many people you will usually be feeding. If you live alone, consider buying a smaller one. However, keep in mind that you will love your air fryer so much that you may want to share some of the delicacies you cook up in it with your friends and family. So, if you have occasional guests visiting your home, you might need something to cater to the increased load.
Another factor that determines how big an air fryer you need is the types of food you plan to cook. For instance, you can hardly fry up a full-sized chicken in a small air fryer. Here is the size breakdown for air fryers available in the market.
Small Air Fryer
The small air fryer can have 1.5 -2.5 quarts of capacity. Their small capacity makes them perfect for solo living. They don't take up much of your counter space. And, they are portable; you can carry them around for outdoor cooking.
Medium Air Fryer
A medium-sized air fryer has the capacity of serving three to five people. With 3- 5 quarts capacity, you can easily prepare a large meal in a medium air fryer. If you pick a 5-quart air fryer, you can even cook a whole chicken with it.
Large Air Fryer
Its capacity ranges from 5.3- 6 quarts. A large air fryer gives you the freedom of any size of food in a large batch. It is suitable for a large family of 5-6 members.
Extra-Large Air Fryer
Extra-large fryers are suitable for commercial use for small restaurants. They have a capacity of 6- 16 quarts. They have multiple compartments for easy meal prep. You can even cook an entire Thanksgiving turkey in the extra-large air fryer, just like you would with an oven.
Related Content: What Are Great Air Fryers for 2021?
Capacity of Basket
A basket-style air fryer has an average capacity of 3-5 quarts. There is also an oven type of air fryer that you can choose from; however, the basket type is the original design. Basket style or material also varies depending on the model of the air fryer. For instance, there is a mesh style basket that you can remove for cleaning. Alternatively, some models have a perforated style basket.
Some air fryers come with a built-in rack that you can't remove from the rest of the unit.
Please note that even if you have a large capacity basket, you shouldn't pile up food to the brim in it. Doing that will lead to uneven cooking and reduce the air fryer's effectiveness.
Matching Air Fryer Sizes to Family Sizes
If you are wondering how big an air fryer you need for your family, it depends on your family size. And, you should also factor in the increased load if you host parties at your home. Here's some general guidelines that you can follow:
If you live alone, a 3-quart capacity air fryer will be enough for you. And, you can go for an even smaller one if it suits you.
For a family of two, buy at least a 3-quart air fryer. If you have the budget and space, you can go for an even higher capacity
For a family of four, buy an air fryer that can hold at least 5 quarts of food. Again you can go for bigger if the budget allows. However, if you don't mind cooking in batches, there is nothing wrong with using a smaller air fryer.
Other Factors To Consider After Size
Which Air Fryers Are Easy to Clean and Maintain?
Now that you know how big an air fryer you need for the family, next comes cleaning. Cleaning and maintenance should be a key consideration when it comes to buying a kitchen appliance. You might think an air fryer doesn't use oil, so it won't be hard to clean up or won't be as greasy as a deep fryer, to begin with. Well, that's not quite true. The little oil or the dressing you drizzle on your frying items can still get messy because of the air fryer's high-speed air circulation.
So be prepared to clean your air fryer after every use. To ease your cleaning, make sure you go for a model that allows taking apart the parts and putting them back together without any hassle. It will also help if the parts are all dishwasher safe. You can also use aluminum foil in the air fryer to minimize the greasy mess.
What Is The Temperature Range?
An air fryer uses a heat radiation technique. The range of temperature of air fryers can vary depending on the models. If you plan on cooking meats, you will want an air fryer that can heat to a temperature as high as 400°F.
As an aside, note that you usually don't need to preheat your air fryer as you do with your oven. But you can certainly preheat if you prefer it that way.
Look for a model that allows you to adjust the temperature. A range of temperature between 390°F- 400° will be enough to cater to your needs. However, the size of an air fryer doesn't necessarily affect its temperature level. Keep the temperature factor out of the equation when you ask, "how big of an air fryer do I need?"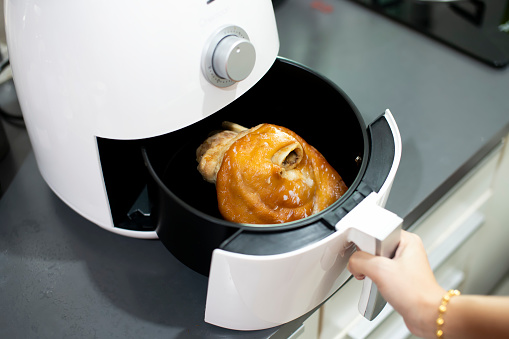 What Features Does It Provide?
Along with the primary frying option, air fryers also come with many convenient features. But a lot of bells and whistles doesn't necessarily mean an appliance is convenient and more valuable. Don't get swayed by flashy designs. Make sure you understand what each of them does, and consider whether you will need all the features in your air fryer. There is no point in paying for features you will never use.
Here are some features you will often see in air fryers.
Rotisserie
Although you might already have a rotisserie with your oven, it is a convenient feature in an air fryer. However, not all models provide this feature. If you plan on cooking a whole chicken with your air fryer, consider going for a model that comes with a rotisserie setting.
Related Content: Best Air Fryers With Rotisserie
Control
Temperature control is the most essential part of an air fryer. Make sure the temperature display is clear and easy to use.
Ease of Storage
You might not use your air fryer every day. So consider the amount of storage space in or near your kitchen. And compare that to the size and dimensions of particular models.
Air fryers can also be heavy, so make sure you have space to keep it somewhere convenient so you don't have to go through too much lifting to plug it in or setting it up on the counter.
If you go for an extra-large size air fryer, you might have a hard time storing it in your kitchen. So make sure you find the right size air fryer for optimum storage options.
Safety Features
Safety features such as auto shut off is a handy feature to have in your air fryer. Air fryers, like other appliances that produce heat. can become dangerous when extremely hot. Make sure your chosen air fryer has an auto shut off feature.
A good air fryer should have an exterior body that is shock-resistant and doesn't heat up with the interior. Otherwise, you will end up with burnt fingertips from any accidental touch.
Recipe Guides
Not every food item or recipe is suitable for cooking in an air fryer. There are certain selected food items that an air fryer can cook for you better than others. For instance, you can whip up a perfect batch of cookies with your air fryer, but putting on leafy greens on an air fryer is . . . not ideal. The greens will fly all over the place because of the air circulation.
Thus, if you're new to cooking with air fryers, a detailed recipe guide can be extremely helpful. Most air fryers come with recipe guides and user manuals. But the level of detail and variety varies.
How Much Does It Cost?
Kitchen appliances can be expensive, especially if you want to buy something high-end and large capacity. The price of an air fryer depends mostly on its capacity. The price can range anywhere between $70 to $200. (Check out our list of best air fryers under $100!)
A medium-sized air fryer might cost you about $60 to $120. However, the price doesn't always determine the quality of an air fryer. Go for a model of affordable air fryers that matches your requirements and budget.
How Much Counter Space Does It Take?
Air fryers are relatively small but bulky by design. They can easily fit on your countertop. The larger the size, however, the more footprint it will need on your counter.
However, if you have to move your toaster to accommodate your air fryer on the countertop, make sure the most frequently used appliances get the most convenient position. If you have too much clutter on your countertop, consider giving away some stuff and clear up space for your new air fryer.
Also be aware that the air fryer needs a certain distance from the surface or wall as they have an exhaust vent at their back. Make sure there is at least 5 inches of gap between the wall and the appliances. Store it on a heat resistant surface.
Does It Make Excessive Noise?
The whole mechanism of the air fryer is dependent on hot air circulation. For this purpose, air fryers have a built-in fans in their configuration. In some models, the fan's noise can be a little louder than what your ears are accustomed to. Most models have a noise level of 65 decibels, the same noise level as your vacuum.
Look for a model that produces the lowest noise without compromising its functionality. However, the increase in noise level can also indicate some mechanical problems with your air fryer.
Does It Come With A Warranty?
Kitchen appliances are bound to break down at some point, even if you are super careful about handling them. A little power fluctuation can damage any electronic device, and you need to take it back to the manufactures to get some servicing done. While buying an air fryer, you will ideally have at least one year of warranty from the manufacturers.
Don't forget to go through all the warranty and exchange policy provided by the manufacturer.
Does It Have Good Consumer Reviews?
Nothing can prevent you from buying something worthless more than reading customer reviews online. Fortunately for you, there is no shortage of online reviews of different air fryers for you to dig through. Almost every shopping site has a review section for each product and model. Turn your analysis mode on, and compare between different products.
However, no product can provide 100% satisfaction to its users; we are bound to find some errors along the way. So don't let one bad review inhibit you from going for your chosen model of the air fryer.
The Bottom Line
Whether buying an air fryer will be worth the cost or not depends on how you use it. If you love fried foods and want them cooked in a relatively healthy way, investing in an air fryer will be a good decision.
To make sure you have the best culinary experience, make sure you get the right air fryer that actually suits your needs. Enjoy healthy cooking with your brand new air fryer!
---
Follow us on Pinterest to keep up with the best tips and tools for your family kitchen!
---
---